Starting from the 5.0 version of Microsoft ® Internet Explorer the cartoon-style tips are available. They are known as Balloon ToolTip: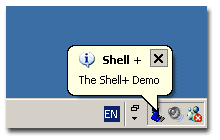 Fig 1. Balloon ToolTip example
Shell+ allows you to use Balloon ToolTips in your application. Place TSxTrayIcon on the main form of your application. Then add ShowInfo and/or ShowCustomInfo method calls to show icon and ToolTip balloon. These two methods are considered below.
The ShowInfo method has no parameters. It uses the following component properties:
InfoFlags - indicates what icon to be shown in the left top corner of the balloon. Several predefined values are available - niifError, niifInfo, niifNone and niifWarning.
InfoText - this property contains the text to be displayed in the ToolTip.
InfoTitle - value of this property will be used as a caption of Balloon. ToolTip.
If you wish to supply all these properties in one call then use the second method - ShowCustomInfo:

procedure TForm1.Button1Click(Sender: TObject);
begin
  SxTrayIcon1.ShowCustomInfo('The Shell+ Demo','Shell+',niifInfo);
end;
To test the example simply run it. Press the button and you will see our ToolTip: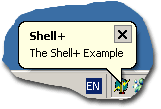 ---
Use links below to download source codes of this example as well as binary files:

Top